Labenne, 7:30pm. 16/06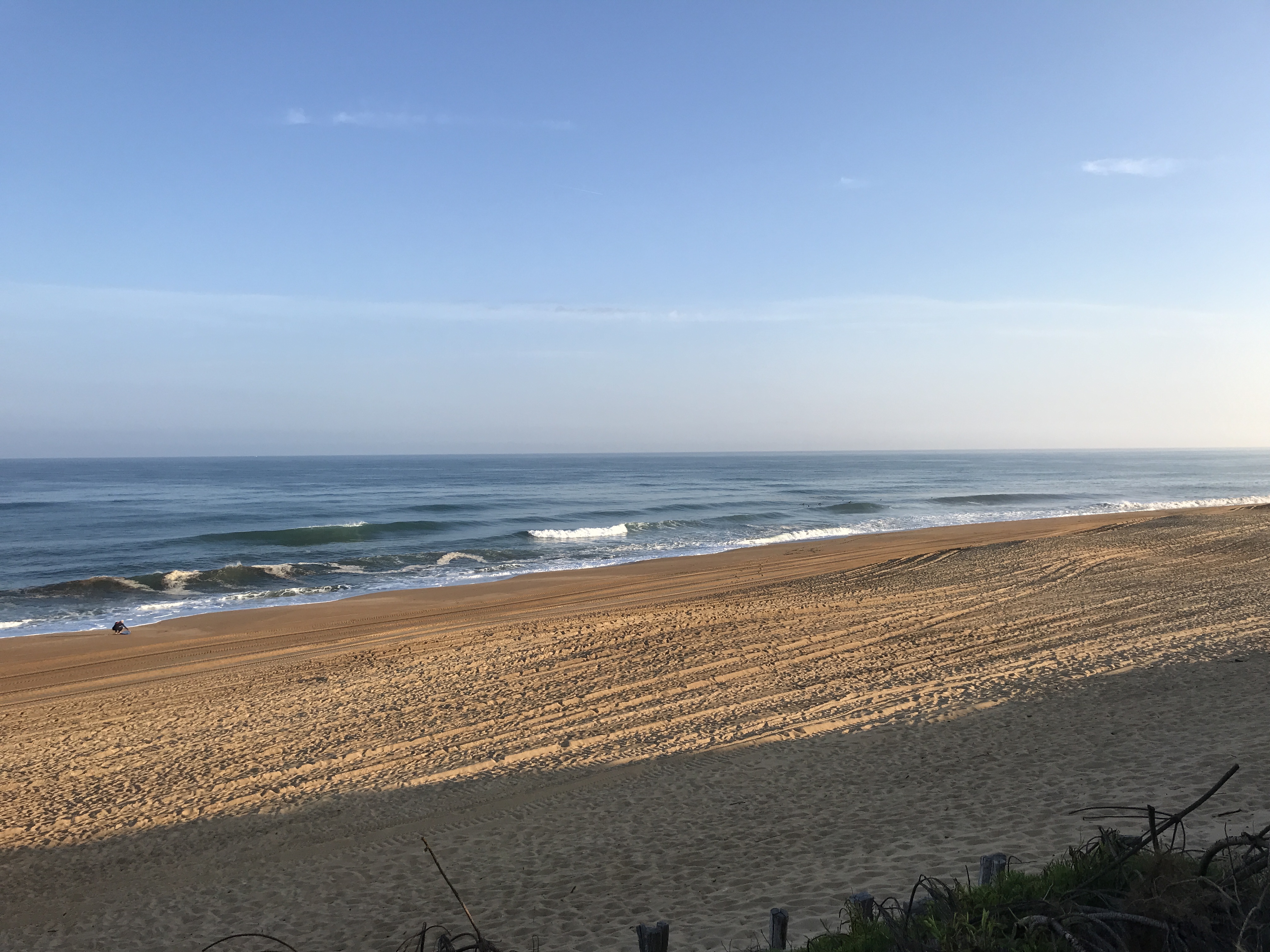 Labenne, Le Vélo Bleu
Rustig zitten tussen het groen van de camping municipal.  Frans, gewoon goed, niet duur.
Capbreton, Mambo Delizie Italiane
Vergeet de pizza, hier proef je het beste van Italië, met ingrediënten rechtstreeks uit Italië ingevoerd .  Raviolis zijn fantastisch!
Capbreton, Vientiane
Vietnamees, lekker, veel en goedkoop eten uit Azië. Vader en zoon runnen de zaak.  Inrichting: Vietnamese kitsch opgefrist met drijfhout en veel planten, geen terras.
Capbreton, La Cuisine
Een koppel (zij in de zaal, hij in de keuken) runt de zaak. De betere Franse keuken, met seizoensgebonden ingrediënten. Topadres!
Hossegor, Touring Café
Gewoon een goed Frans stadsrestaurant.
Hossegor, Little Princess
Geen keten maar het lijkt er wel op, vlotte vriendelijke bediening.  Goeie en niet dure Italiaans/Franse keuken.
Hossegor, CJ Sushis
De betere sushi.  Gerund door jong, sympathiek Nederlands koppel, Jeroen en Chayenne. Tip: afhalen en eten aan het lac.
Hossegor/Seignosse, Louvine
Gezond, gezellig fastfood hipsterconcept. Stel zelf je pokebowl (met kip of rauwe vis, of vegetarisch) samen. Met veel smaak ingericht, topadres.
Hossegor/Seignosse, Chez Monette
Erg lekkere wereldkeuken. Gezellig zitten.  Zeer vlotte bediening, bestel daarom in twee keer, anders ben je (te) snel weer buiten.
Hossegor Lac
Oesterkwekerijen met bijbehorende oesterbarretjes ten noorden van het lac.  Toplocatie voor wie van oesters houdt. Niet duur, gezellig zitten, verser kun je oesters niet eten.
Hossegor Lac
Twee gezellige adresjes met lekker eten en ideaal om op het strand te chillen aan het water. Perfect voor met kinderen: Le Mango tree (als de wind uit het oosten of zuiden waait) of de overkant als de wind uit zee komt.
 Labenne, Le Vélo Bleu
Endroit calme dans la verdure du camping municipal. Cuisine française, simple mais bonne. Pas cher.
Capbreton, Mambo Delizie Italiane
Oubliez les pizzas, ici vous trouvez le meilleur de la cuisine italienne, avec des ingrédients venant tout droit d'Italie. Les raviolis sont top!
Capbreton, Vientiane
Cuisine asiatique, repas copieux et bons à prix modeste. Resto tenu par père et fils. Intérieur pas trop kitsch grâce aux plantes vertes et au bois flottant qui sert de décoration. Pas de terrasse.
Capbreton, La Cuisine
Resto tenu par un couple (elle dans la salle, lui dans la cuisine). Cuisine raffinée, avec des produits locaux. Une de nos meilleures adresses !
Hossegor, Touring Café
Bonne cuisine française tout simplement.
Hossegor, Little Princess
Il en a l'air mais non, ce resto n'appartient pas à une chaîne. Service rapide et aimable. Bonne cuisine française/italienne pas trop chère.
Hossegor, CJ Sushis
Sushis haut de gamme. Tenu par un couple de Hollandais jeunes et sympa, Jeroen et Chayenne. Notre conseil : emportez les sushis et dégustez-les au bord du lac.
Hossegor/Seignosse, Louvine
Cuisine saine, produits locaux, ambiance hipster. Composez vous-même votre poke bowl (au choix : poulet, poisson cru, version végétarienne). Néo-guinguette très cool. Adresse super à notre avis!
Hossegor/Seignosse, Chez Monette
Cuisine internationale gourmande. Ambiance conviviale. Service très (trop ?) rapide : mieux vaut commander en deux fois afin de savourer plus longtemps.
Hossegor Lac
Superbes bars à huîtres au nord du lac. Il s'agit de cabanons de producteurs d'huîtres qui proposent de déguster sur place. A ne pas manquer si vous aimez les huîtres ! Pas cher du tout, vue magnifique sur le lac en prime.
Hossegor Lac
Deux endroits au bord du lac où il fait bon se reposer et se restaurer. Parfaits pour les enfants. Le Mango tree (si le vent vient de l'est ou du sud) ou en face, de l'autre côté du lac (si le vent vient de la mer).
Labenne, Le Vélo Blue
Relaxing in the garden of the municipal camping. French cuisine. Simple, good and not expensive.
Capbreton, Mambo Delizie Italiane.
Forget the pizza, here you'll taste all the best of Italy made with ingredients imported straight from 'homeland'. The ravioli is delicious!
Capbreton, Vientiane.
Vietnamese, tasty large portions for little money. The restaurant is run by father and son. Atmosphere: kitsch with a touch of driftwood and lots of plants. No terrace though!
Capbreton, La Cuisine.
A couple runs this small restaurant (she serves, he cooks). The better french cuisine with seasonal ingredients. Top restaurant!
Hossegor, Touring Café.
A simple,French restaurant.
Hossegor, Little Princess.
Although it feels like a franchise it is actually a one-of-a-kind restaurant. Fast and friendly service. Inexpensive Italian and French cuisine.
Hossegor, CJ Sushis.
Great sushi. Run by a young, friendly Dutch couple: Jeroen & Chayenne. Tip: order take-away and have a picnic at the 'lac'.
Hossegor/Seignosse, Louvine.
Healthy and cosy fast food. A bit hipster. Make your own 'pokebowl' (with chicken, raw fish or vegetarian). Beautiful interior. Top restaurant!

   

Hossegor/Seignosse, Chez Monette
Very tasty ethnic cuisine. Cosy interior. Very fast service: order in two times, otherwise you might finish your meal too quickly.

 

Hossegor Lac
Oyster farms and their bars at the north side of the 'lac'. Great spot for all who love oysters. Not expensive, cosy. You can't get your oysters any fresher than this.
Hossegor Lac
Two cosy restaurants with tasty food. This is the place to be if you like chilling at the waterside. Perfect for families with children. Le Mango tree: go here with east or south winds. Go to the other side if the wind is onshore.
De meeste koppels starten met een B&B wanneer ze al een loopbaan achter de rug hebben, misschien uit verlangen om hun leven die wending te geven waar ze altijd van hebben gedroomd. Wij wachtten niet zo lang. Na onze studies begonnen we te werken in de recreatiesector aan de kust en in de Ardennen. We deden dit weloverwogen in seizoensverband zodat we in de wintermaanden volop konden reizen en surfen. Met ons eigen huisje op wielen reisden we de hele wereld af: van Costa Rica over Peru en Ecuador tot Indonesië en Indië. We surften aan Afrikaanse kusten en beleefden prachtige breaks in Australië en Nieuw-Zeeland…
We genoten van onze ontdekkingsreizen maar we beseften ook al vrij snel dat we niet eeuwig op deze manier konden doorgaan. Ook de prachtigste bountystranden kunnen op de lange duur vervelen! En daarenboven: we waren jong, we hadden 'drive' en ambitie te over, of, zoals ze zo mooi zeggen in het West-Vlaams, we hadden geen 'zittend gat'! We wilden ergens voorgoed neerstrijken maar het moest een plekje zijn waar ons dagdagelijks leven zou meebewegen met het ritme van de golven. Hoe konden we onze surf'kunde', reisbelevenissen en werkervaring laten samenkomen in een gestroomlijnd plan? Het leek ons een ideaal idee om een plek te creëren waar we als gastheer en -vrouw reizigers, surfers en vakantiegangers konden ontvangen op een ongedwongen en hartelijke manier. Zo'n plekken hadden wij ook altijd gezocht – en soms ook gevonden – tijdens onze reizen. We droomden van een warm nest, smaakvol en comfortabel ingericht, waar we onze gasten persoonlijk konden verwelkomen, waar er gezelligheid en tijd voor een fijne babbel was, waar de gasten hun ding konden doen en volop genieten van hun verblijf bij ons. De vraag was: waar zouden we dat nest gaan bouwen? We overwogen Marokko maar omdat we niet al te ver weg van vrienden en familie wilden leven, werd het al snel Frankrijk. We twijfelden even over Bretagne maar als we dan toch zo'n 1000 km ver verhuisden, verkozen we een surfplek waar het gemiddeld 6 à 7 graden warmer is dan aan het Belgisch thuisfront. Zo werd het de Landes, waar de beachbreaks tot de beste van de wereld horen.
We vonden ons paradijsje tenslotte in Labenne, een rustig dorpje dat toch centraal ligt in een prachtige en goed voorziene toeristische streek. Er zijn uiteraard de vele surfspots, maar je kan er evengoed culinaire ontdekkingen doen, genieten van de zee en de bossen, de streek verkennen, Spanje en het Baskenland beleven…Die brede waaier aan mogelijkheden vonden wij ook wel belangrijk.
We begonnen klein: met 4 gastenkamers, de veranda en de gastenkeuken in de staat zoals ze nu nog altijd zijn…We wisten niet goed wat het ging worden. We dachten aan een kalm leven met veel surf, chillen in de hangmat en gasten met mondjesmaat. Het draaide anders uit! Na het eerste seizoen bouwden we eigenhandig een nieuwe kamer bij: het Beachhouse in de tuin. Een seizoen later kwam er ook de villa bij, bestemd voor surfende gezinnetjes. Een schot in de roos, al zeggen we het zelf! Vervolgens namen we alle kamers én badkamers onder handen. We deden aan gezinsuitbreiding, eerst Milo, wat later Oscar. Omdat we de kinderen niet in het berghok, in het bureau tussen de vuile was of in de keuken wilden laten slapen – zoals wij jarenlang deden – braken we onze privéruimte af en bouwden er een nieuwe en grotere. Het was veel, het was druk, het was niet altijd evident en het was soms afzien. Maar we onthouden vooral de ongelooflijk mooie momenten die we met ons tweetjes, met vrienden en familie, en met onze gasten meemaakten.
En we zijn het nog lang niet moe! Dit jaar hebben we weer iets nieuws voor jullie in petto: vanaf 2019 staat er een mobilhome voor jullie klaar waarmee jullie de Atlantische kust verder kunnen verkennen, met onze deskundige hulp.
La plupart des couples commencent une chambre d'hôtes après une carrière bien remplie, poussés peut-être par le désir de réaliser un rêve caressé depuis toujours. Nous n'avons pas attendu si longtemps. Après nos études, nous avons opté pour un emploi saisonnier à la côte et dans les Ardennes ce qui nous donnait la possibilité d'aller surfer et de voyager dans les mois d'hiver. Notre petite camionnette nous a conduit partout : du Costa Rica au Pérou et en Équateur jusqu'en Inde et en Indonésie. Nous avons fait du surf à la côte africaine et vécu des moments inoubliables en Australie et en Nouvelle Zélande.
Tout cela était formidable, bien sûr, mais nous nous sommes rendu compte assez vite que cela ne pouvait pas durer éternellement. Même les plages les plus magiques vous lassent à la longue. En plus, nous étions jeunes, nous débordions d'énergie et d'ambition, nous avions besoin d'un défi ! Nous rêvions d'un endroit où nous pouvions vivre sur le rythme des vagues. Et comme nous avions acquis beaucoup d'expérience dans le secteur touristique et celui des loisirs, nous avons eu l'idée de créer une chambre d'hôtes. Nous rêvions d'une maison confortable et de bon goût où la convivialité et le contact personnel avec les hôtes seraient privilégiés. Nous avons décidé assez vite de nous installer en France. Après avoir envisagé la Bretagne, nous avons finalement opté pour les Landes : les températures plus agréables et les fameux spots de surf à proximité de Biarritz (c'est là d'ailleurs que le surf européen est né !) ont joué un rôle déterminant.
C'est à Labenne que nous avons finalement trouvé notre petit paradis. Le petit village tranquille de Labenne est situé idéalement au cœur d'une région touristique intéressante offrant, à côté bien sûr de multiples spots de surf, plein d'activités de loisirs et de plaisirs gastronomiques.
Au début, notre petit nid comptait 4 chambres, une véranda et une cuisine pour les hôtes. Ces deux dernières pièces sont encore dans l'état original du début. Nous n'avions aucune idée de quoi notre vie aurait l'air : une vie tranquille avec beaucoup de surf, de longs moments de détente dans le hamac, et quelques hôtes de temps en temps ? Faux sur tous les plans ! Après la première saison, nous avons ajouté une cinquième 'chambre' dans le jardin : le Beachhouse, construit de nos propres mains. La saison suivante, nous avons acheté et aménagé la villa, destinée aux familles avec enfants : une vraie réussite ! Ensuite, nous avons rénové toutes les chambres et les salles de bain. Entretemps, notre petite famille s'est agrandie : nous avons accueilli Milo d'abord, puis Oscar. Comme ce n'était pas une bonne idée de coucher les enfants dans le débarras, entre le linge sale dans le bureau ou dans la cuisine – les endroits où nous avions dormi pendant toutes ces années -, nous avons démoli notre logement privé pour en construire un autre plus grand. Bref, nous avons travaillé, transpiré et parfois souffert…mais ce que nous voulons retenir, ce sont les moments fantastiques que nous avons vécus en couple, en famille et avec nos amis et nos hôtes.
Et ce n'est pas encore fini ! Infatigables et jamais à court d'idées, en voici la preuve : à partir de 2019, un mobilhome sera à votre disposition. Ainsi vous pourrez découvrir la côte atlantique en toute liberté et sans soucis tandis que nous vous servons de guide!
Most couples choose to set up a B&B after they've experienced a career life, perhaps because they realise they finally want to chase their ultimate dream. Instead, we didn't choose to wait. After finishing our studies, we started working in the recreation industry at the Belgian coast and in the Ardennes. At that time, we chose to work only during summer season, so that we could enjoy traveling and surfing during winter. We traveled the world with our camper and crossed not only Costa Rica, Peru, Ecuador but also Indonesia and India. We enjoyed surfing African waves and experienced wonderful breaks in Australia and New Zealand…
We enjoyed our travels but at the same time, we realised this way of living could not last forever. Even the most stunning 'bountybeaches' get boring after a long time! Above all: we were young, ambitious and had a driven mentality.We yearned to find a place to stay forever where our lives could move with the rhyth of the waves. We searched to blend our love for surfing, our travel experiences and our work experience in one all-embracing plan. This is how we ended up sketching the concept of a place where we- as hosts- would be welcoming travelers, surfers and holiday-makers in a relaxed and warm way. During our own travels, we had searched for these kind of places to stay ourselves. We dreamed of creating a warm, stylish and comfortable place where we could welcome our guests in a personal way. A cosy place for nice chats, where our guests would be able to do whatever they wished for and could enjoy their stay in our little paradise. The only crucial question was: where are we going to build this warm nest? We thought about moving to Morocco but as we didn't want to settle down too far away from our family and friends, we picked France as the ideal destination. For a moment we thought about Bretagne but as we were moving 1000 km anyway, we preferred a surfspot where the average temperature would be 6 to 7 degrees warmer than the Belgian standards. This is how we ended up in Landes, a place that hosts the best beachbreaks in the world.
We finally bumped into our little paradise in Labenne, a quiet village, though very centrally situated in a beautiful and popular touristic area. Not only does this region have a lot of well-known surfspots, you can also go on a culinairy adventure, enjoy the sea and the woods, explore the region or experience Spain and the Basque Country. For us this wide range of activities was a must.
We started small: 4 guestrooms, a porch and a guest kitchen. We didn't really know what to expect. We were looking forward to a calm life with a lot of surfing, chilling in the hammock and some guests every now and then. But things turned out differently! After the first season, we personally built a new room in the garden that we named: the Beachhouse. A season later our B&B expanded again with a new villa, for surfing families. It turned out to be a great succes! After that we transformed all the rooms and bathrooms. Not only the house but also our family expanded. First we welcomed Milo, then Oscar came into our lives. We didn't want the kids to sleep in the storeroom, the office, the kitchen or in the middle of our dirty laundry, as we did ourselves for years. That's why we decided to rebuild our private living room to a bigger one. It took a lot of energy, it was busy and it sure wasn't easy. But above all, we keep the good memories of the time we spent with the two of us, our family, our friends and our guests.
Luckily, we aren't even close to tired yet. We even have something new in store for you! Introducing our all new mobilehome, available starting this year! You can explore the Atlantic coast in this full equiped vehicle at your own pace. We'll be happy to give you some good travel advice!
Paardrijcentrum van Labenne
Een ritje met Shetlandpony Minus, voor kinderen tussen 1 en 2 jaar. Een rit van een half uur op een vast parcours kost 10€. Best bellen om de pony te reserveren. Link: http://www.equitationlabenne.fr
Bezoek aan Zoo Labenne
Een kindvriendelijke zoo met dieren die in grote ruimtes leven en dikwijls door kinderen kunnen geaaid en/of gevoerd worden. Het voeren van de geiten bijvoorbeeld is fantastisch. De popcorn kan je aan de ingang kopen. Link: https://www.zoo-labenne.com
Lac van Hossegor/Lac van Soustons
Even bekomen van de wilde zee of de hoge golven? Op de stranden van de beide lacs kunnen je kleine oogappeltjes rustig spelen aan het water, beschut tegen de wind én in het oog gehouden door redders. Je kan er ook SUPS (Hossegor) huren of toffe waterfietsen (Soustons). Het lac van Hossegor is verbonden met de zee, daar ga je best niet heen bij eb.
Aquarium in Biarritz
Interessant. Mooi gebouw. Link: https://www.aquarium.biarritz.com/fr/
Cité de l'Océan
Modern en interactief museum. Voor kinderen vanaf 8 jaar. Bezoek duurt 2 à 3 uur. Link: https://www.aquarium.biarritz.com/fr/
Centre aquatique Ayguebleu
Indoorzwembad met alles erop en eraan. Op een halfuurtje rijden van Labenne. Inkom 5€, kinderen tot 3 jaar gratis. Voor 10€ kan je zwembad en sauna combineren. Link: https://www.vert-marine.info/aygueblue/
Wandelen met Mawi
Vraag zijn leiband aan ons team en ontdek het bos en het strand. Mawi kent hier zijn weg.
Balade en mer
Een boottrip. Veel havens in de buurt bieden boottochtjes aan. Ideaal om de zee en de kustlijn te ontdekken. Je kan terecht in Bayonne, Saint-Jean-de-Luz…Onze aanrader: Hendaye! Link: https://www.hendayais.com/
Rondneuzen op de markt
De markt in Capbreton (zaterdagvoormiddag) is tof. De markt van Hossegor (zondagvoormiddag) is toeristisch maar je kan er lekkere tapas eten. De markt in Bayonne (zaterdagvoormiddag) is onze favoriet: je kan er regionale produkten kopen à volonté én daarna gezellig een glaasje drinken in en rond de overdekte markthal.
Centre équestre de Labenne
Une balade avec le poney Shetland Minus, pour les petits de 1 à 2 ans. Une balade d'une demi-heure sur parcours fixe coûte 10€. Réservation téléphonique préférable. Lien : http://www.equitationlabenne.fr
Visite du zoo de Labenne.
Un zoo familial où les animaux vivent dans des enclos spacieux. On peut les approcher et même les nourrir ou caresser. Donnez du popcorn (en vente aux caisses) aux chèvres naines et vivez des moments magiques. Lien : https://www.zoo-labenne.com
Lac d'Hossegor/Lac de Soustons
Un peu fatigués des grosses vagues et de l'océan fougueux ? Emmenez vos petits sur les plages des deux lacs où ils peuvent jouer en toute tranquillité, abrités du vent et surveillés par des sauveteurs. Vous pouvez y louer également des SUP (Hossegor) ou des pédalos (Soustons). Attention : le lac d'Hossegor est soumis au jeu des marées, n'y allez pas à la marée basse…
Aquarium de Biarritz.
Intéressant. Lien : https://www.aquarium.biarritz.com/fr/
Cité de l'Océan
Musée moderne et interactif. Pour des enfants à partir de 8 ans. Durée de la visite : 2 à 3 heures. Lien : https://www.aquarium.biarritz.com/fr/
Centre aquatique Ayguebleu
Piscine moderne qui dispose de plusieurs bassins couverts. Comptez une demi-heure en voiture pour y aller. Entrée : 5€, gratuite pour les petits de moins de 3 ans. Combinaison piscine et sauna : 10€. Lien : https://www.vert-marine.info/aygueblue/
Se balader avec Mawi
Demandez la laisse à notre équipe et partez à la découverte de la plage et de la forêt. Mawi sera votre 'guide'!
Balade en mer
De nombreux ports dans les environs offrent la possibilité de se balader en mer. Bayonne, Saint-Jean-de-Luz, … Notre bon plan : Hendaye ! Lien : https://www.hendayais.com/
Les marchés.
Le marché hebdomadaire (samedi matin) à Capbreton est chouette. Celui d'Hossegor (dimanche matin) est un peu touristique mais on y mange d'excellentes tapas. Notre marché préféré est celui de Bayonne (samedi matin) : on y trouve des produits régionaux à volonté et après les courses, vous prenez un verre dans les halles du marché ou sur une des nombreuses terrasses sur la place du marché.
Horse-riding centre of Labenne
Horseriding with Shetland pony Minus: in a horse-riding centre in Labenne. The pony walks a fixed route for half an hour. 10 €/30 minutes. Suited for kids of age 1 to 2. It's best to make a reservation by telephone in advance. Link: http://www.equitationlabenne.fr
Visit the Zoo Labenne
Zoo Labenne is a small and interactive chield-friendly zoo. The animals live in relatively big cabins and can be caressed by the kids. It is possible to feed the animals with popcorn bought at the entrance. Feeding the goats in their pen is amazing! Link: https://www.zoo-labenne.com
Lake Hossegor or Souston
Getting tired for a moment of the wild sea and it's high waves? A good alternative to play with little children are the more quiet lakes. It is possible to rent SUPS (Hossegor) or Pedalo boats (Souston). Your children can play on the beaches on both sides of the lake, sheltered from heavy winds and in presence of lifeguards. Pay attention: the lake of Hossegor is connected to the sea. Therefore it is better to avoid the lake at ebb tide.
Aquarium in Biarritz
Nice, beautiful building. https://www.aquariumbiarritz.com/fr/
Cité de l'ocean
Interactive and modern museum. Suited for children over 8 years old. Visits take between 2 and 3 hours. https://www.aquariumbiarritz.com/fr/
Centre aquatique Ayguebleu
Splendid indoor pool. Half an hour drive from Labenne, entrance €5. Free entrance for kids under the age of 3. Possibility to enter the pool and sauna for €10. Link: https://www.vert-marine.info/aygueblue/
Go for a walk with Mawi
Ask our team for Mawis leach so you can discover the woods and the beach. Mawi knows his way.
Balade sur mer
A boattrip. Different ports nearby offer boattrips. Perfect to discover the sea and the seashore. Boats depart from Bayonne, Saint Jean de Luz,… Personally, we recommend this one in Hendaye: https://www.hendayais.com
Browse different markets
The market in Capbreton (Saturday morning) is nice. The market in Hossegor (Sunday morning) is touristic but still enjoyable. It's a good place to enjoy delicious tapas. The market in Bayonne (on Saturday mornings) is our favourite. You can not only buy local products, but also enjoy a drink at the indoor marketplace.