By plane
Fly to Bordeaux with low cost airlines (Easyjet, Hop, Volotea, Ryanair, etc.) from Brussels, Amsterdam, London, Zurich, etc.
Fly to Biarritz with low cost airlines (Easyjet, Hop, Ryanair, etc.) from Brussels, Lille, Paris, etc.
We can arrange transport to and from the airport Biarritz. (Taxi: €50 / we drive: €40 one way)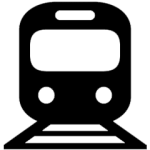 By train
The high-speed train (TGV) stops at Bayonne railway station. From there, a 15 minute drive will take you to the door of Board 'n Breakfast. We can arrange transport for you (taxi: €40 / we drive: €30) or for 2€ you can get a bus.

By bicycle
We rent bikes for 7€ per day or 30€ per week. Surf racks are available.
Fatbikes
We can arrange fatbikes. 
With these bikes you can search for your very own virgin wave. 🏄🏼 How simple can life be? Take a bike, strap your board on and venture out to the beach to look for your own break where you don't have to share waves with tens of other surfers. These bikes can achieve speeds up to
27 kph
, even on sand! Alternatively, you could load the bike into your car and discover the long coastline between Seignosse and Bordeaux.  Unfortunately, the bikes aren't cheap. However, with a bit of luck Anton will take you on an adventure for free! 😄
Prices:
1 day: €30
2 days: €50
3 days: €65
4 days: €76
5 days: €85
6 days: €94
7 days: €90
Every extra day: + €10